I think using a good tasting cracker as well as the chocolate helps to mask the strong flavor that baked marijuana has. As a chef and smoker, I'm a firm believer that you should be able to enjoy the cookie as much as the high that will follow.
With that said, here's how I make my Firecrackers; if there are any questions, please feel free to ask!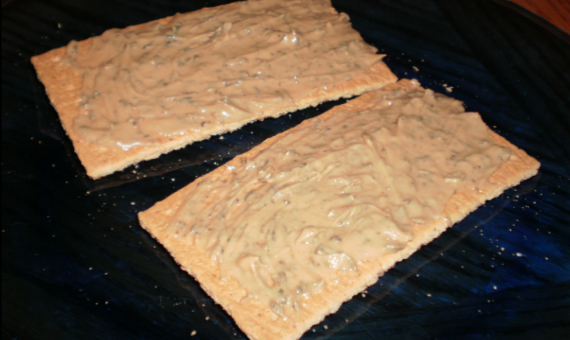 Ingredients:
1 gram of cannabis
cracker of choice
2 tablespoons peanut butter
2 teaspoons of oil
chocolate chips (whatever amount you want!)
Directions:
Preheat Oven to 310°F.
Grind the cannabis as finely as possible.
Mix oil and peanut butter together.
Once mixed, add the cannabis, mixing again.
Take mixture and spread thinly and evenly onto one side of the crackers until the mix is completely gone.
Having placed crackers onto baking sheet (spread-side up), cover sheet with foil.
Bake for 23 minutes.
Pull out of oven and uncover.
Take chocolate chips and sprinkle them on half of the crackers.
Let the chocolate chips sit for about 3 minutes.
Use something to spread the chocolate chips (now melted) evenly over the crackers.
Once done, sandwich the crackers together, let cool for a moment, then enjoy!
Notes:
The amount of weed you use can depend on how high you want to get. The gram is just a standard number I pulled from the original recipe.
Also, that's the ratio for fresh bud– Obviously you'll want to use more if it's already vaped bud.
Any cracker will do but I usually use cinnamon or chocolate graham crackers. Yum!
Peanut butter can be substituted for any Nut-butter substance (like Nutella).
Speaking of which, search around for options, I found and used chocolate flavored peanut butter once!
The extra oil is to help better extract the THC.