This is a recipe for what I call "Compost Oatmeal Cookies" because it allows you the possibility to use so many things in your cabinet.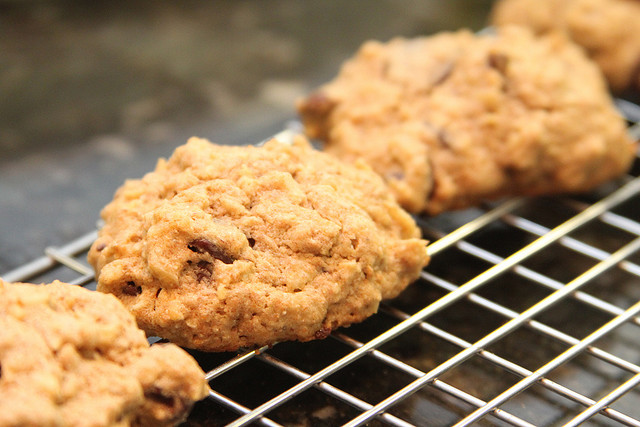 (via Gudlyf)
Ingredients:
1 Cup softened Cannabutter (I like working with clarified butter)
1 ½ C. Quick-cooking rolled oats
1 ½ C. all-purpose flour
½ C. granulated Sugar
½ C. brown sugar
2 eggs (or 1 large mashed banana or ½ C. apple sauce if you want to get nutty or don't have eggs on stand by)
1 tsp. salt
1 tsp. baking soda
1-2 tsp. vanilla or almond extract (You can use imitation vanilla, but know that it's a by-product of white paper bag production. Doesn't stop me from using it).
The following ingredients are optional. You may use one or more or fewer at your pleasure and curiosity.
6-12 oz. semi-sweet chocolate chips
¼ C. baking cocoa
1-2 tsp. cinnamon
1-2 tsp. nutmeg
½ C. peanut butter
1-2 handfuls of chips (Potato chips, Fritos, Doritos, etc. I haven't tried tortilla chips but I don't see why they wouldn't be pleasant)
Directions:
Soften butter. I am firmly against placing cannabutter in the microwave so I pre-heat the oven to the lowest temperature and place the cannabutter in an oven-safe open container to soften up. Once cannabutter is softened and removed, pre-heat oven to 325° F. Mix the flour, oatmeal, salt, baking soda and cinnamon, nutmeg, or chips if used in a large mixing bowl. In a smaller bowl, mix the softened cannabutter with the granulated and brown sugar, eggs, and any of the rest of the optional ingredients you'd like to use. Combine the two. If the dough appears to wet or runny, lightly sprinkle some extra oats and flour on top of the dough to be mixed in. Use an ice cream scooper to form little dough balls and place them on a greased tray or a tray covered with parchment. Bake for 16-18 minutes. They are ready when you can stick a fork in one of the cookies without any dough clinging to it when removed. The recipe usually makes 22-24 cookies.